AcXys Technologies developed ULCoat : thin layers deposit made easy – countless applications
ULCoat
ULCoat uses the injection of a precursor into plasma at post-discharge phase to deposit thin layers onto the target surface.
ULCoat specifics feature a spray system that requires the injection of a precursor under the plasma nozzle. ULCoat device must be coupled to ULS OMEGA.
The standard unit has been designed to deposit SiOx with a metal-organic precursor. However, other recipes can be developed upon request.
At AcXys Technologies, we can accommodate your specific requests: team up with our Lab to develop your custom solutions – this is what R&D contracts are made for.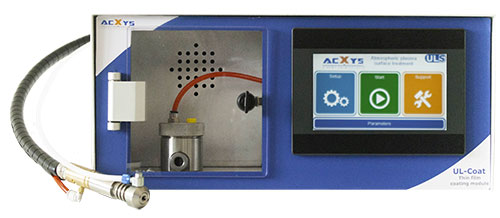 ULCoat is available as a standalone equipment or as OEM.
ULCoat technology
– Coupled to ULS OMEGA module
– Used for thin layers depositing
– Adjustable thickness from 50 to 1000 nanometers
– Even thickness with +/- 2% variation
– Processing speed for treatment up to 200 nm.cm2 / s
– Standard version is optimum for SiOx deposits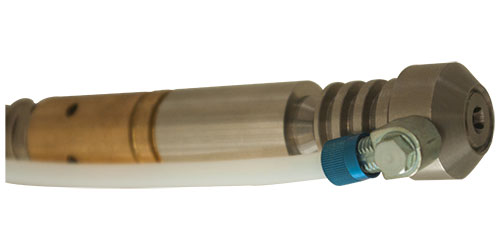 Injection nozzle
Precursor flow is monitored prior its injection into plasma. This module integrates the following elements:
– Precursor tank
– Precursor flow control
– Gas flow control
– Heating component (optional)
Intuitive digital interface touchscreen
– Embedded touchscreen (remote if OEM)
– Intuitive controlling
– Multilingual interface
– Error detection and troubleshooting
– Real time display of instructions
Compatible gas
– Air
– Nitrogen
– Other gas blend
Benefits of ULCoat
– Low temperature
– Even thickness with 2% variation
– Other deposits can possibly be integrated
– OpenFlow version available for the development of new depositing processes